Jeff Fox (@ColonelJeffFox) is back to continue a great conversation about Homebrew, Punk Rock, growing up in the US, and what it means to be an anti-hero. And the beer this time is his own creation. It's delicious.
Music at the end from First Aid Kit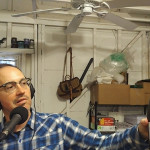 with You are the Problem Here.
Podcast: Play in new window | Download
Subscribe: Apple Podcasts | Android | RSS